What is a
Fire Tank

?

Fire-fighting tanks are water storage containers that provides water to a fire pump. According to their manufacturing standards and use they can be of different types. The size of the tank is determined by the flow and duration requirements of the systems the tank is supplying.

Fire-fighting tanks can have different shapes and manufactures with a wide range of materials.
Why buy
our tanks

?

These are the reasons:
The tanks, designed and built by Fire Piping Tanks, meet the highest

public authorities and private companie

s'

requirements.

Fire Piping Tanks is responsible for all design, manufacturing, and assembly processes.

The supply of a complete project, with guarantee and responsibility, offers you long-term

security.

Our expertise as tank manufacturers allows us to offer a product with the best quality/price ratio and maximum guarantees.
We offer two
Sealing

Systems:
What are the
advantages

of the screw manufacturing?
Screwed tanks can be assembled quickly and automatized with low cost assembly, do not need the high costs of welding.

Easy and economical transportation anywhere in the world, disassembled and palletized in containers.

Bolted connections and special polyurethane mastic guarantee a tank free of leaks.

The double expansion joint between the tank ring nut and concrete, seals the joint hermetically.

Quick Supplies due to the existence of standard panels in stock.

Our tanks do not require special maintenance.

Flexible design capabilities and standardized for between 20 and 8,000 m3

Possibility of displacement.

No need to be painted.

Easy assembly of a wide variety of accessories such as flanged connections, manholes, anti-vortex, stair and platform, veneer floors, ceilings, trims, etc …

Respect for the environment in the use of materials

.
Rectangular
tanks
They are a solution for certain types of work where there is limited space.
We adapt to the available surface, rectangular tanks can be done, squares … allowing to save columns or leave them in the tank.
These tanks are built on a single sheet folded ring nut "fretwork" of up to 2.5 m high and 1 m wide. Depending on its size the tank is internally reinforced with tension or transverse straps.
The material specifications are the same as for cylindrical tanks.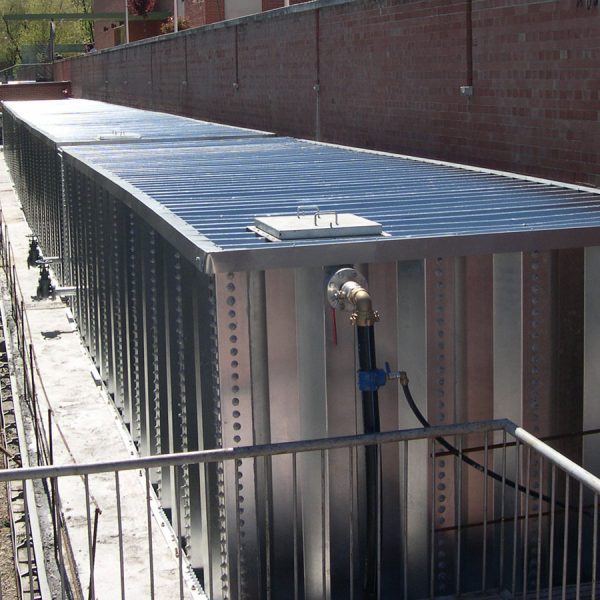 Every fire protection system requires a water supply system capable of providing  the flow for the relevant installation to operate uninterruptedly the time necessary to contain or extinguish the fire.
Water sources will be categorized into three main groups: the public water network, inexhaustible water sources and fire water storage tanks.
In this article we will focus on fire water storage tanks, which must follow a specific process for their design, manufacture, and subsequent assembly in the corresponding fire protection installation.
At Engineered FirePiping S.L. we have developed our fire tanks with the state-of-the-art design tools, such as: Cypemetal 3D, Tekla, Technometal, SolidWorks and AutoCad. Thanks to that we can simulate, calculate and design the most appropriate water tank for each application.
As in all industrial sectors, in the fire protection sector, and particularly in the development of water supply tanks, there are standard like: AWWA D-103, FM 4020, NFPA 22, UNE 23.500. covering the tank sizing, manufacturing and installation.
FIREPIPING fire protection tanks meet the highest quality requirement and are approved by  CEPREVEN and FM.
Types of firefighting tanks according to their water tightness
Depending on their sealing system, water supply tanks for fire protection can be divided into two groups: bladder tanks and mastic tanks.
The bladder tank watertightness is granted by an inner 1,100 gr/m2 density PVC bladder together with neoprene gaskets in every tank connection.
The mastic ones get it using Sikaflex 11 FC polyurethane mastic and a Sikawell P2010 double expansion joint.
It is possible to install bladders for drinking water supply tanks together with AISI-316 stainless steel fittings and special neoprene seals.
A geotextile blanket is placed at the bottom of the bladder for the bladder self-protection, allowing a bladder useful life of up to 20 years.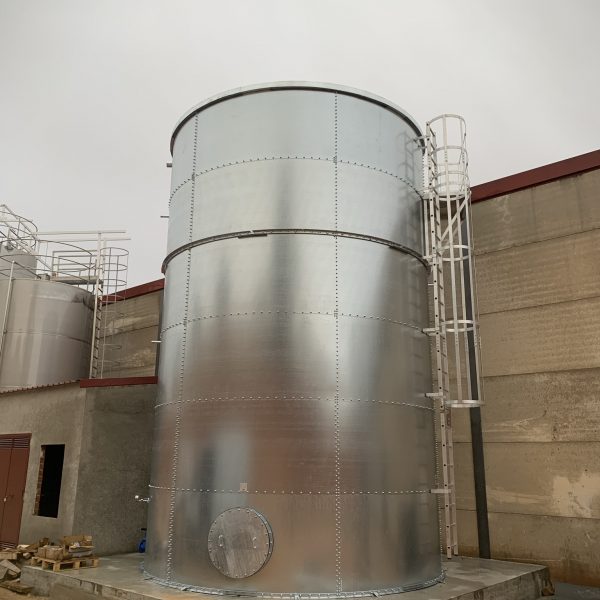 Types of fire-fighting tanks according to their geometry:
Depending on tank shape, firefighting tanks may be either circular or rectangular. Beside the geometry, the mains differences yield in the internal and external reinforcement procedures each one has.
Materials used in the various firefighting tanks
The rectangular fire tanks are made of structural steel plate S280 Z275 MAC (Cepreven) and the circular tanks use the same steel (Cepreven) and S355JR Z350 MAC (FM).
They will therefore be manufactured in structural galvanised steel with at least 270 µm/m2 of zinc in folded "fretwork" sheets, in formats of up to 3 metres high and 1 metre wide, with external and internal L and U-shaped reinforcements (as well as pillars) to counteract the pressures exerted by the fluid contained inside.
Civil works for the installation of water tanks
In terms of the complexity of the required civil works tanks, the mastic tanks will be more complex than the bladder tanks.
Some important aspects to be considered are the type of concrete to be used and the anchoring of the base plates to the concrete base.
They shall be anchored to the ground by means of mechanical anchors and anchoring brackets.
Going deeper, the bladder tank base has a single stage. The base must have a polished finish and a special anchorage to the concrete. On the other hand, mastic tank bases (more complex) will require two phases: an internal concrete layer and an external one.
Recommendation for the use of rectangular fire protection water tanks
This is a very useful solution for the water supply of fire protection systems on certain construction sites where space is limited, such as basements or roof terraces, as it can be easily adapted to the available surface area.
What can we achieve with this?
Achieve the highest water supply capacity in the smallest possible space.
Some clear advantages of the installation of these rectangular tanks for firefighting systems are:
Speed of assembly, being able to automate this process quite a lot (it takes between 4 and 6 days to

assemble).
They can be

anti-seismic.
They can be relocated, if necessary, without any

problem.
Shipments of material in

containers.
Very simple repairs and almost no

maintenance.
They do not require

painting.
Possibility of personalisation with corporate vinyl and other visual

details.
Faster turnaround and execution times than other deposit

formats.
Reduced transport, installation, and maintenance costs.

 
Accessories supplied with the tanks
Our tanks are supplied with all the accessories necessary for their correct operation. Some of the accessories that can be supplied with the tank are described below: perimeter angles, reinforcements, float filling valve, manhole, aluminium ladders, hydrometer (element to measure the height of the water column inside the tank), emptying connection (with its corresponding valve), return valve, manhole hatch, platform and the aspirations with its anti-vortex plate.
Optional painting of any fire protection container
Any tank supplied by Engineered Firepiping S.L. may be subjected to any paint treatment and in any colour from the RAL chart.
Standard process covers the following steps to ensure the quality and durability of the process:
Degreasing and chemical cleaning with ammonium bifluoride of the material to be

painted.
Oven-drying at 120 degrees

Celsius.
Application of one coat of Wash epoxy primer covering the surface with a minimum dry film thickness of 20

µm.
Electrostatic application of a polyester resin powder topcoat, adding a minimum dry film thickness of 100

µm.

Conclude the process by polymerising in an oven at 190 degrees Celsius for 20 minutes.