Carbon
Steel

Pipe

Carbon steel pipe is the most used in the aboveground sections of fire protection installations. Below, we present the most common types of steel pipes, as well as some characteristics linked to their manufacture.

The two most common types of steel pipes used in fire protection:

Pipes that are manufactured according to a mechanical deformation process, cold or hot.
 S.S.P. pipe is manufactured from a cylindrical steel ingot that is heated in a furnace before extrusion. During the extrusion it is passed through a cylindrical die and then the hole is made by means of a penetrator

Existing pipe Standards for seamless steel pipe for fire protection systems are; ASTM A 106, API 5L, EN 10216-1, ASTM A53 S, ASTM A795 S, EN 10255 S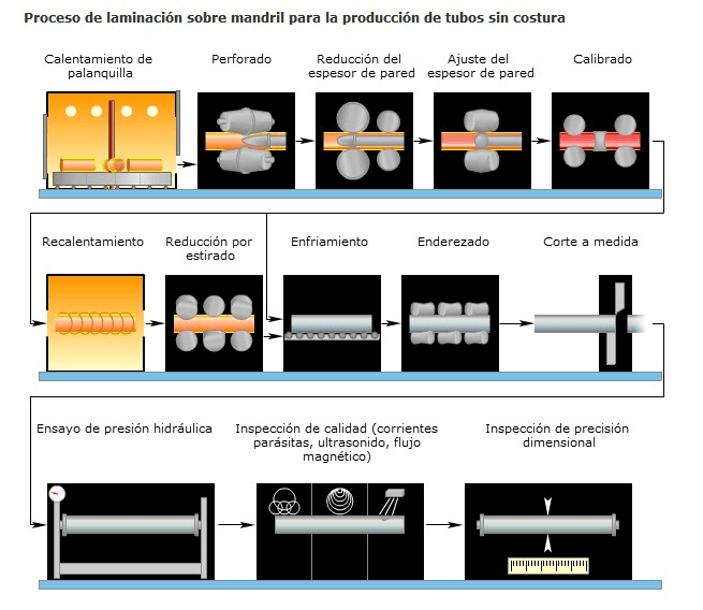 Pipes that are manufactured from a steel strip, of appropriate width and thickness. The welding processes can vary; electric resistance welding (E.R.W.), high frequency welding (H.F.I.) or submerged arc welding (S.A.W.).
Pipes for fire protection systems are longitudinally welded HSW type. Spiral welded pipes are only used for large diameters that are not commonly used in fire protection systems.
  Welded pipe is produced by forming a cylinder from flat steel sheets




coming from a hot strip mill. The welded seam is either parallel to the tube axis or in a spiral direction about the tube centreline. By varying the spacing between the rolls bend radius can change to manufacture different pipe diameters.

Existing pipe Standards for welded steel pipe for fire protection systems are: EN 10217-1, EN 10255 W, ASTM A53 W, ASTM A795 W, ASTM A135.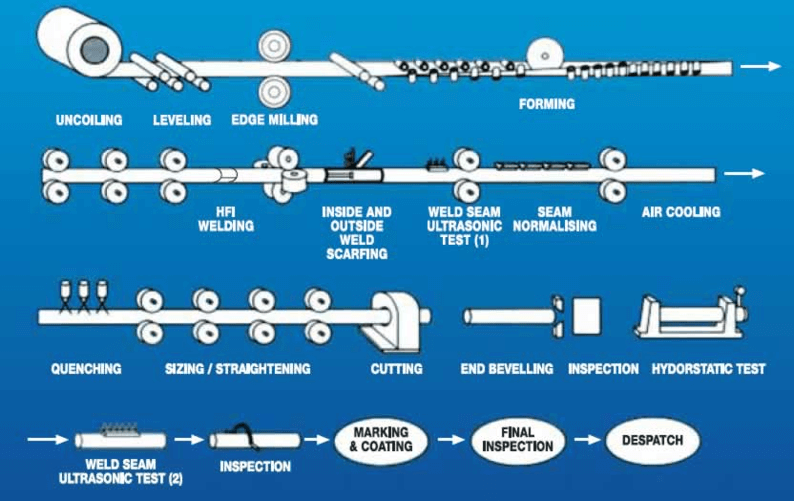 Pipe

joining

systems
WE WILL DISTINGUISH FOUR SYSTEMS TO JOIN PIPES, EACH ONE WITH ITS ADVANTAGES AND DISADVANTAGES.
Major pipes joining

methods comparation
A comparative table is included with the four mentioned joining. Following systems main characteristics are compared: Pipe end preparation, installation, pre-fabrication possibilities, maintenance and reparation. Both, technical and economics, advantages and disadvantages are included.
After the table analysis we can conclude, that thanks to its specific features, grooved system is the most appropriate pipe joining method for Fire protection Systems.
Pipe end preparation is fast and easy, installation process requires only the fastening of a couple of bolts and nuts, connected pipes are able to allow deflection and axial displacement, a few room is required for installation, so it can be installed in small spaces. Pipe prefabrication process is very easy. Product quality is easily controlled at both, the factory and job site. Installation can be visually checked. Surface protection can be easily applied.  No "hot jobs" are required for dismantle or reinstall operations and design and cost estimation could be easily done.
All these features made this joining process the most appropriate for prefabrication, because most of the preparation works can be automatically performed at the factory with a higher performance, less cost and better-quality control. The required number of on-site working hours decrease dramatically and consequentially the total cost of the installation also do it.